St. Jude Dream Home Complete!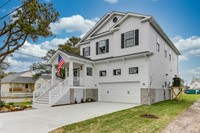 Created by St. Jude pioneer Dr. Donald Mack, the St. Jude Dream Home Giveaway has raised more than $315 million nationwide to date.  The idea is simple: build a home as inexpensively as possible, sell $100 raffle tickets to the public, and then give away the home!  All the proceeds go towards the fight to end childhood cancer, and the St. Jude Dream Home Giveaway has been one of the most successful fundraising efforts for the cause.
Twenty years ago, the first St. Jude Dream Home was built in the Ocean View area of Norfolk.  Now, the EDC Homes team is proud to announce that we are bringing the St. Jude Dream Home full circle by celebrating the 20th Anniversary right where it all began in Ocean View!
An official groundbreaking was held on Friday, November 15th 2019 and the St. Jude Dream Home was completed in March 2020.  This was a total team effort and we are so proud of the finished product!
To find how to get involved in the 2020 St. Jude Dream Home and the St. Jude cause, please visit: https://www.stjude.org/give/dream-home/hampton-roads.html
To view the most recent updates on the 2020 St. Jude Dream Home Giveaway, view: https://www.wtkr.com/coast-live/an-update-on-the-st-jude-dream-home-giveaway-on-coast-live
We would like to thank the following suppliers and vendors for their generous contributions towards the St. Jude Dream Home: 757 Restoration, Ampmor Electric & HVAC, Axis Global Utilities, Bay Disposal, Bonney Bright Sand Company, Ferguson Enterprises, Budget Blinds, Builders First Source, Capital Concrete, City of Norfolk Permitting Office, Closet Factory, Coastal Hardware, Custom Closet & Glass, G&J Electric, Fireside Hearth & Home, Greenbrier Vinyl & Gutters, J&S Overhead Garage Doors, James Hardie, Lane Landscaping, Final Coat Painting, McCormick Paints, Mitchells Pest Service, Pelican Bay Plumbing, Pro-Finishing Interiors, Pure Custom Audio Video, Quality Turf, R&W Cabinets & Granite, Rite Rug Flooring, Seville Masonry, Stephen's Contracting, Todd Brown Gutters, and Window World!