Coastal Virginia Magazine - Best of 2018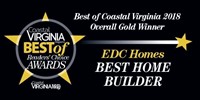 EDC Homes has been named an Overall Gold winner as Best Home Builder in 2018 Coastal Virginia Magazine's "Best of Reader's Choice" Awards honoring the best of Hampton Roads businesses.  This is EDC Homes' 2nd win in as many years, having been named the Southside Gold Winner for Best Home Builder in 2017.
Each year, Coastal Virginia magazine offers its readers an opportunity to nominate businesses from varying categories.  Each business then goes through an initial voting period and the finalists are selected based upon the total number of votes each received.
"My team and I are honored to receive this award from the community, as it reflects the highest level of service and commitment that EDC Homes strives to be known for." – Nick Jacovides, CEO & President of EDC Homes.
The Reader's Choice Award was designed to acknowledge and reward local companies for their commitment to the area and to their customers.  EDC Homes is proud to have been recognized by the Hampton Roads community, and we look forward to continuing to provide excellent service and craftsmanship to our customers.