Building Homes and Relationships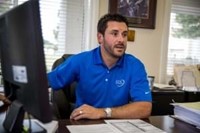 President and CEO of EDC Homes, Nick Jacovides, likes consistency in his relationships with mortgage companies and other partners in his business. He has a long history with Atlantic Bay and its owners and a solid relationship with loan officer Heather Todd.
He states that the success of the relationship stems from frequent communication. Then, a smooth process and a quick close add to the overall positive client experience. All of these things he finds with Atlantic Bay.
EDC Homes believes in putting the client first and has created what they call the "EDC Experience" that promises to give clients the best home that they can get for their budget.
It all starts in the showroom at their location off of Shore Drive in Virginia Beach.
Nick works directly with the client every step of the process to ensure that they are happy with their home and that it was designed and built with their specific needs in mind.
He does not cut corners on materials and finishes. He relates it to how Atlantic Bay finds the right loan and the right interest rate for the client. EDC has also built relationships with contractors and use the same people and companies over and over, like Atlantic Bay works with a network of realtors and builders.
When the home is complete, EDC takes it a step further and offers a warranty that gives the client peace of mind. It is not an additional cost to the client and is already included in the price.
Each buyer gets a portfolio to keep all of his/her important paperwork organized throughout the process. It's just one of many personal touches EDC adds to their experience.
"I love seeing the look on the homeowners' faces when they do their walk through with me and we've given them exactly what they want," Nick states. "I also love knowing that Atlantic Bay takes care of them, too. If they can get a lower interest rate, the savings are passed on to the customer. We have a solid relationship with Atlantic Bay and I know that we will get consistent service."