EDC Homes Hosts Glensheallah Property Owners at 309 Park Road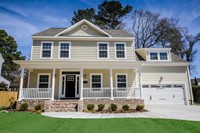 Open houses are alway a great time.  Especially when EDC Homes unveils their lastest model for the first time.  With 3,000 square feet of Open Space Design and a down stairs master bedroom this home sold quick.
On Saturday March 28, EDC Homes invited the Glennshellah Property Owners Association and members of the community to take part in morning coffee and donuts while touring 309 Park Road.  Along with the previous land owner and her granddaughter, Mrs. Wilson was pleased to see what we built from the ground up.  EDC Homes owner, Nick Jacovides, and family were on hand to show off what has become known as a standard of excellance. This home sold to the first homeowner that walked through the door.